Processing systems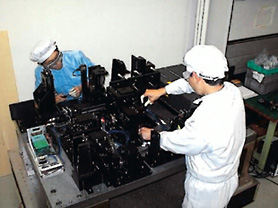 Processing systems
KYOCERA SOC Corporation provides various laser-focusing and observing optical systems corresponding to a wide range of wavelength from 193nm UV to 1.06um for welding, repairing, annealing etc. Our high quality durable optics are applied to such optical systems to ensure reliability even in kW-class system and equipment.
Fabrication records
●Wavelengths
Deep ultraviolet (DUV)
Ultraviolet (UV)
Visual (VIS)
Near infrared (NIR)
●Categories
Light focusing
Observing
Fiber output
Fiber light focusing
Fiber coupling
Homogenizer
Laser scanning
Laser repairing
Exposure
Welding
Applications
Laser welding, laser annealing, laser repairing, laser trimming, excimer laser boring, liquid crystal panel processing, semiconductor wafer processing, etc.