Ultrafast laser mirrors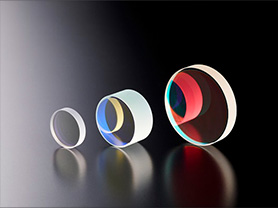 Ultrafast laser mirrors
KYOCERA SOC Corporation offers broadband mirrors for the ultra-short pulse controlling GDD (Group Delay Dispersion) of Ti:Sapphire lasers or Yb lasers. Although there is a trade-off between mirror's damage threshold and bandwidth, KYOCERA SOC Corporation provides an optimally designed mirror to your laser applications leveraging abundant experiences in laser anti-damage developments for femtosecond region. Protected gold or silver mirrors are also available.
Major Features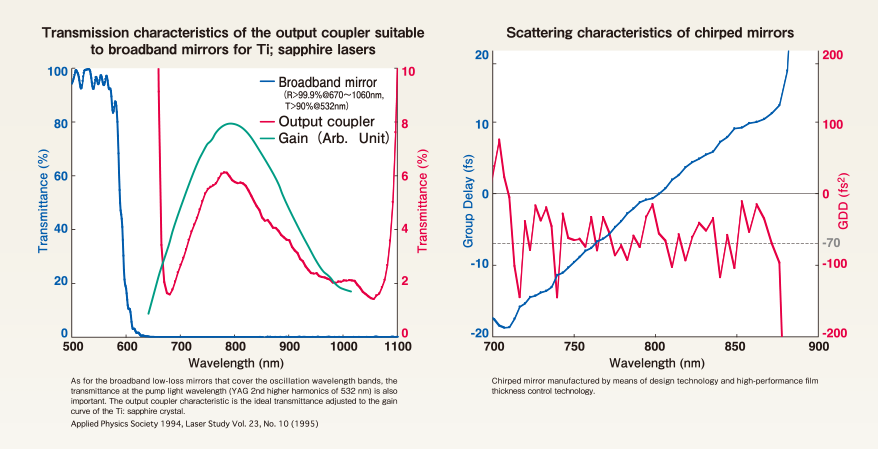 Matches to the gain spectra

Ultra-high-precision film-thickness controlling technology

Dispersion compensation(via simulation)

GDD:70fs2 @720-860nm

Ultra-broadband OPO mirrors

More than 200-layer multi-coating
R>99.9%@700-1500nm
Recently, femtosecond lasers have shown rapid progress thus receiving attention to industrial application possibilities. KYOCERA SOC Corporation makes every effort to improve performance of the broadband low-loss mirror covering the whole operating wavelength bandwidth by a single mirror. The output mirror transmittance and the chirped mirror scattering characteristics have been remarkably improved by the film-thickness controlling technology.
Catalog Download
Laser Optics