Precision large aperture lenses
Precision large aperture lenses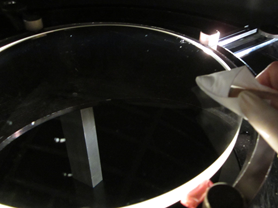 Precision large aperture lenses
KYOCERA SOC Corporation offers precision large aperture lenses of maximum outside diameter φ320mm and surface accuracy λ/20~λ/50(λ=633nm), which are comprised of synthetic silica, calcium fluoride, various optical glasses. Errors of the standard TS lens are corrected via the two-sphere method and shipped to customers with the surface accuracy data of its total effective diameter measured by the stitching interferometer. Infrared aspherical lenses of Si crystal or Ge crystal are also available.
Key features
Surface accuracy measurement

Stitching interferometer(SSI-AR) to obtain total profile data by piecing together subaperture data measured at each divided polished area
Accurate measurement above its reference spherical surface accuracy is achievable by purging configuration errors of its reference surface via the two-spherical-surface method
Correction polishing

NC polisher (MRFR, MCP 250 CNC) is the machine to operate correction processes by calculating elimination quantity of every part of the targeted lens compared to its preprocess surface data.
Standard specifications

Maximum outside dimension: φ300mm ※depends on its curvature radius
Lens material: synthetic silica, various optical glass, calcium fluoride(CaF2), etc.
Surface accuracy: λ/20~λ/40(λ=632.8nm)
※MRFR®SSI-AR®: QED Technologies, MCP 250 CNC®: OptoTech

Precision large aperture lenses